caption="(artist Jason Laurits-used with permission)"]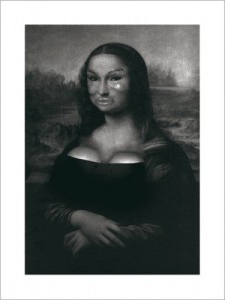 If you have seen a reputable surgeon and not been offered surgery, the solution isn't to keep searching until you find someone to take on your case. Eventually you will find someone hungry or adventurous enough to give it a go, and that is not a good criteria for finding a surgeon.
Choosing a surgeon because they can accommodate your impulse decision for surgery next week is also a bad idea.
Another source of problems is the pursuit of perfection: a result that is 95% perfect should be left alone, unless your surgeon feels very confident in doing a revision.
Bad results stand out, good results go mostly unnoticed. As a result, bad results seem more common than they really are.
Plastic surgeons hate bad results, even when they arise from someone else's practice. A bad result causes all prospective patients to doubt the benefits of cosmetic surgery. It is also a challenge to take on management of a bad result from another practice, as prospects seeing this poor soul in our waiting room will reasonably assume we did the original surgery.
Your consultation with any surgeon will (hopefully) include a discussion of risks, but rarely does the surgeon detail how they would handle a bad outcome. A conscientious surgeon will not be offended by questions in this regard, and hopefully the answers will bring you greater peace of mind about your decision.