Skin Lesions (Moles, Warts, Lumps and Bumps, Skin Tags): We Do That!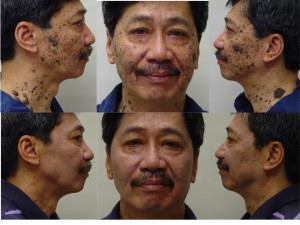 We don't advertise our proficiency in treating skin lesions, and that is probably unfair to the many people who are troubled by 'minor' problems and don't know who to see for advice and treatment. One of the commonest questions we are asked is "do you use a laser?". Lasers are useful when there is a lesion under the skin surface that is coloured differently than the surrounding skin. Purple or red vascular lesions are best treated by laser, and we will refer patients to colleagues with expertise in this approach. Aside from this indication, most skin lesions are best treated by meticulous surgical technique under magnificiation, followed by expert wound care. In the photo above, our patient is seen about 3 months after dermabrasion to remove 100s of keratoses. He has no significant scarring, and by wearing sunblock (note the slight discolouration to his skin) whenever he goes out, he is avoiding pigmentation problems that are otherwise common with his skin type.
About Dr. Michael Kreidstein
Dr. Michael Kreidstein is expert in cosmetic surgery and performs breast implant, skin resurfacing, tummy tuck, facelift, nasal, facial rejuvenation surgery and liposuction surgery.
3 Comments
This is a procedure best treated by a General Surgeon.




Posted on Aug 26 2012 By Kay

Do you remove anal skin tags?




Posted on Aug 26 2012 By Dawn

Pretty! This was an incredibly wonderful article.

Thank you for supplying these details.