Easy! How to Choose a Plastic Surgeon in Toronto
31 Jul 2023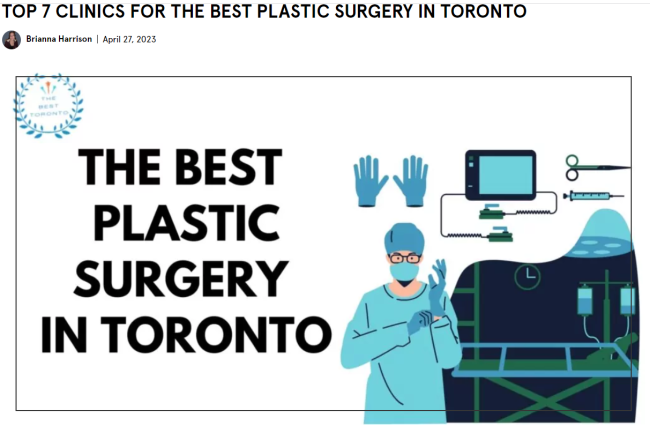 **Dr. Michael Kreidstein listed among Best Plastic Surgeons in Toronto, 2023**
When choosing a plastic surgeon in Toronto, it's important to do thorough research to ensure you find a qualified and reputable professional. Here are some important considerations for finding the best plastic surgeon for you:
Credentials and Certification: Ensure that the surgeon you choose is certified by the Royal College of Physicians and Surgeons of Canada in plastic surgery. Certification ensures that the surgeon has undergone rigorous training and meets the necessary standards to practice. Certification in another specialty (e.g. Otolaryngology/Head and Neck Surgery) qualifies a doctor to describe themselves as a Cosmetic Surgeon, but not as a Plastic Surgeon.

Experience: Look for a surgeon with substantial experience in the specific procedure you are considering. Ask about their years of experience, the number of procedures they have performed, and any specialized training they have received. A surgeon with less than 5 years of independent practice would require very specific specialty training (e.g. oculoplastic surgery) to be comparable to a plastic surgeon who has benefited from 20 years of 'before and after' results to guide their practice.

Reviews and Testimonials: Read reviews and testimonials from previous patients to get an idea of their experiences with the surgeon. Online platforms, such as Google reviews, Ratemd or Realself, can provide insights into patient satisfaction and outcomes. Be cautious in that reviews can be 'cultivated', so 100s of 5-star reviews may hide some legitimate bad reviews. Consider also that 20 reviews do not reflect the typical experience at a practice with 20,000 patients.  Generally, it is those who have a great or terrible experience who are motivated to write reviews, so reviews may not capture the average result.

Referrals: Seek referrals from trusted sources, such as your primary care physician, friends, or family members who have undergone plastic surgery in Toronto. Their personal experiences and recommendations can help guide your decision. Primary care physicians are especially valuable as they are likely to have seen the results of 10s or 100s of operations by a surgeon.

Consultations: Schedule consultations with multiple surgeons to discuss your goals, concerns, and expectations. During the consultation, assess the surgeon's communication skills, their ability to answer your questions, and their approach to patient care. A good surgeon will listen attentively, address your concerns, and provide you with realistic expectations. Be sure to ask how revisions (corrections for less-than-optimal results) are handled, and how you would reach the surgeon after-hours in an emergency. Don't accept a meeting with a representative instead of the actual surgeon.

Facility Accreditation: Ensure that the surgical facility where the surgeon operates is accredited by a recognized organization such as the CPSO Out of Hospital Premises program. Accreditation ensures adherence to safety standards and high-quality care.

Before and After Photos: Ask to see before and after photos of previous patients who have undergone similar procedures. This will help you assess the surgeon's skill and determine if their aesthetic aligns with your goals. Like reviews, photos may not represent a typical result, but lots of good results can give you an idea of the surgeon's aesthetic and confirm that they have expertise in a procedure.

Convenience: Particularly if you expect to make repeated visits (e.g. botox injections), you should consider travel time, parking availability and costs, and hours of operation.

Costs: Very low or very high fees should be a concern. Low fees suggest a surgeon with a quiet practice, as increased demand should push up price. Some surgeons will charge high fees to seduce patients who are anxious and need to pay the most to feel secure in their decision.

Advertising: Two surgeons- one has a massive social and traditional media advertising program and a busy practice; one has no advertising and a busy practice (word of mouth, repeat patients, referring MDs). Which one is likely the better surgeon? 

Trust your Instincts: Ultimately, trust your instincts and choose a surgeon you feel comfortable and confident with. Plastic surgery is a personal journey, and having trust and rapport with your surgeon is crucial.
Taking the time to find a skilled, empathetic and experienced plastic surgeon will help ensure a positive and satisfying outcome.
1 Comment
Posted on Jul 31 2023 By Deanne

test of comments