Eyelid surgery to feel, look and see better!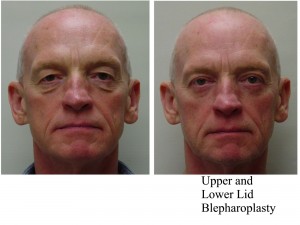 Loose eyelid skin can compromise your vision, cause headaches, and make you look older than your years.  Blepharoplasty (aka eyelid lift) may eliminate your need to raise your brows to keep your lids open. This helps to minimize forehead creases, and eliminate headaches arising from constant contraction of your forehead muscles.  At your consultation, a careful analysis of your forehead function, globe shape and position, eyelid mechanics, and many other factors allow us to make effective recommendations and develop a treatment plan that is right for you.
4 Comments
Posted on Jan 20 2013 By Sue

What is the recovery time for an eyelid lift? (Blepharoplasty)




Hi Sue,
Bruising can be conspicuous for a small number of patients. There is also swelling that remains to a minor degree for weeks. That said, you can do light activities the day after surgery, and exercising/working/socializing is unrestricted by two weeks post-op.




Posted on Jan 20 2013 By Kay

My mother is inquiring on what the cost is for this procedure?




Eyelid surgery ranges from $2000 to $5500, depending on the extent of surgery that is necessary.